Life unfolds in a series of cycles, cycles that began long before humans first walked this planet. These cycles operate regardless of your awareness or your participation. When we move forward without any thought to these larger forces operating around us life can feel out of control.  Look at 2020, what if I told you astrologers had been warning us that something BIG was coming down the pipeline with Saturn and eventually Jupiter meeting up with the Lord of the Underworld, Pluto in the late degrees of Capricorn. But wait there's more  because on December 21, 2020 Jupiter and Saturn will be within on tenth of a degree of one another, the next time they come that close will be 2080. Leading up to the conjunction and then their entry into Aquarius, we can expect the dismantling of outdated systems and institutions that will serve in our personal evolution as well as a collective. Rapidly evolving technology and the decline in human connection begs the question:
Will we use technology or will technology use us?
How the future will look depends on how we respond today.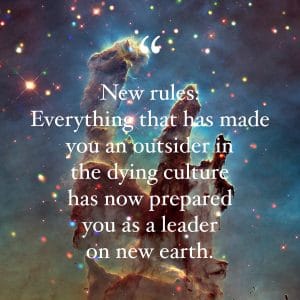 We have a choice, we can actively bring about lasting change by making small decisions every day that bring us closer to living in balance. No longer do we need to support a system steeped in an outdated methodology that serves to provide for only the choice few. The upcoming Age of Aquarius (some will say its already here) will help to usher in a new reality that embraces people of all color, race, gender, sexual orientation and ethnicity, celebrating unity in diversity.  This new reality welcomes everyone but it requires one thing of us, that we show up as our authentic selves.  Above all we must learn that through love and forgiveness we find not only the answers but we also find peace. Astrology can provide that map you to guide you way back home.